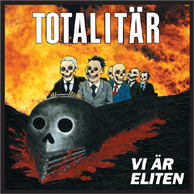 Totalitar's
final Lp after a receiving a bunch of
Great
reviews
continues to top and chart the "Best of 2007" hardcore release lists , getting the nod from the great
Cult Punk
blog site, Al quint's
Suburban voice blog
and
Noise Annoys Blog
Felix Von
Havoc
maybe gave the record it's strongest recommendation in his February 2008 MRR Column: " The best record of 2007 is Totalitar Vi Ar Eliten, This record towers over all others released in 2007. A lot of people doubted it, or where underwhelmed on first listen. At first listen it's not all that mind blowingly fast or anything like that, but it has a certain restrained sense of power that elicts a sense of Awe with each listen. The mid-tempo ragers come on relentlessly and the understated guitar solos just add to the power. It is as if you are in a room full of giants who would crush you with the flick of a finger. I highly recommend this record to anyone who likes hardcore punk"
and then the latest
MAXIMUM ROCK'N'ROLL
issue #298 has a "best of 2007" ( I'll post my list a little later after everyone has bought the issue) feature where it hit a lot of people's top ten "They are the masters of the genre, all Praises" ( Martin Sorrondeguy) " Totalitar's third and final full length doesn't really disappoint. Did anyone think it would?" ( Justin Briggs)," absolutely unfuckwithable" "The very definitiuon of raging hardcore punk" ( Golanr Nikpour) "this is fucking raging" ( Layla gibbon), " this LP is further testament to the fact that they are one of the greatest hardcore bands ever. The title track has this super fucked guitar part that leads into a solo and I gush everytime I hear it" ( Cissie Scurlock)
MRR RADIO
even opened their "Best of 2007" show with the title track from the LP.Scroll down to check out the whole 2-hour special.
This LP's gatefold first press is almost entirely sold out, and will be re-pressed as a regular sleeve 12". We have a handful of the Clear vinyl with Bonus 7" left up on our
Ebay Store
.
No Musical News from the other members outside of their drummer and the unstoppable force of swedish hardcore, Jallo- a man so prolific you can shop and "compare prices for Jallo"
on Yahoo
.
His band
KVOTERINGEN
has a new single out on
Communichaos
, who also pressed "Vi Ar Eliten" in Europe.
MEANWHILE
has a new LP and re-issues of their older records coming out on communichaos and
FERAL WARD
... Which poking around myspace begs the question....do they ever battle this
Other, acoustic folk country rock MEANWHILE
from Sweden? and
AARTILIA
also just recorded a new LP for release on FERAL WARD.