KYLESA
is headed on tour with fellow Savannah band
BARONESS
! Dates below.
As an added treat, Robert from
ARTIMUS PYLE
is filling in on Bass for Kylesa on this tour. Go Say Hi!
The Kylesa "S/T" has finally been re-pressed with vinyl available now and CD's shortly.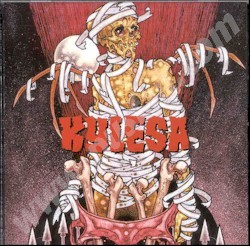 There were a bunch of reasons this has been out of print for so long-
Pushead
wanted to re-draw / re-mix or add parts of the cover ( An idea which was after many months, scrapped) , prank's finances leaving Mordam were difficult, and after pressing it several times previously We focused on some of the back catalog that has been out of print for even longer. With 70 + titles "In print" now, it's even harder-and probably less necessary to keep everything available at once. Anyway, it's one of our favorite LP's We've released and we hope to keep it supplied without interruption here out, KYLESA have the vinyl on the road as well as copies of the prank "110 Degree Heat Index" 7" . This Lp third press is differentiated from the first pressing black vinyl by having red labels.
here are the tour dates:
26-01-08 (NET) Tilburg @
13 Popcentrum
27-01-08 (BEL) Hasselt @
Muziekodroom
28-01-08 (UK) Bristol @
The Croft
29-01-08 (UK) Birmingham @ Medicine Bar
30-01-08 (UK) Manchester @
Star and Garter
31-01-08 (SCo) Glasgow @
Nice 'n Sleazy
01-02-08 (UK) Sheffield @
Corporation
02-02-08 (UK) London @
The Monto / Water Rats
03-02-08 (UK) Brighton @
The Barfly
04-02-08 (FR) Paris @
La Scene Bastille
05-02-08 (SWI) Lausanne @
Le Romandie
06-02-08 (GER) Saarbrucken @
Kleiner Club
07-02-08 (GER) Donauworth @
Juze
08-02-08 (AUS) Vienna @
Szene
09-02-08 (AUS) Innsbruk @ Pmk
10-02-08 (CZE) Prague @
Klub 007
11-02-08 (GER) Leipzig @ Zoro Bornaische Straße 54 04277
12-02-08 (GER) Berlin @
Cassiopeia
13-02-08 (DEN) Copenhagen @
Stengade30
14-02-08 (GER) Hamburg @
Hafenklang
15-02-08 (Net) Groningen @
Vera
16-02-08 (GER) De Cologne @
Palladium
Visions Magazine
Festival