I do reviews for
Maximum Rock'n'Roll
, being re-drafted after doing reviews in the 1990's after Will Born/Dead left on another of his long tours. The first Issue of MRR I ever bought was
#8
( click on that link to read the entirte issue as a pdf- awesome!) with the Pushead Skateboard cover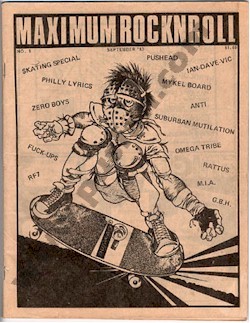 at the old location of
Cheap Thrills
in San Luis Obispo in '83/'84 and I was a subscriber for Years when I moved back to Alabama. It's a magazine that means and meant a lot to me as a lifeline to a broader punk scene when I lived in the middle of Nowhere.
The have a great crew of folks running the magazine, presently and over the last few years, and the quality of the issues lately has been consistently high, but I really have felt for a few years now that the magazine is missing it's mark by not having a more aggressive online prescence and serving the role it did in the 1980's- as a conduit for connecting people to bands, fanzines, tours,labels and so forth. This role has largely been ceded to ( corporate) Myspace and websites with real-time, updated daily content, and as a fan of the magazine it's sad to see MRR recede into the shadows, where I feel it should retain that role as the focal point of underground DIY hardcore info.......anyway, More on this later.
But I Still do reviews , otherwise I would never discover great things Like PESD...and other offbeat yet cool stuff that comes out of Europe, though at times it seems no one seems to READ these reviews, and six or eight months later people then catch on to
KVOTERINGEN
or whoever I was giving the nod to in the grimy newsprint six or eight months before... so here's one of the coolest records I've heard out of europe in awhile:
UNKIND
-" Hangen Syliin" LP **
OKAY- NOW THIS IS FUCKING GREAT. An amazing and totally bleak and definitely their best- third LP from this finnish band, combining a more muted and moody take on DISFEAR-style rocked out guitar riffs, Savagely shouted vocals Ala' VICTIMS, and then the dark and Epic scope of NEUROSIS ( and their Slower, ow end Lumbering) , TRAGEDY ( mood carrying guitar riffs and solos) ARTIMUS PYLE ( bursting from all of that into wicked thrash) and their ilk. The Recording is crazy serious and megalithic, allowing the weight of the riffs to be literally oppressive and powerful then just clearing enough space for the band to blast fast thrashier parts. Top knotch musician ship, The mood of the whole affair somber as it can get, and while this metallic influenced crust style is seems at times almost completely currently dismissed stateside / locally, if you like any of the five bands I just mentioned, buy this immediately. AWESOME.
(
COMBAT ROCK INDUSTRY
, P.O. Box 65, Riihimaki, Finland )
**disclaimer the MP3's of their Myspace from this LP have like 1/10th the sound fidelity and power that the LP actually has....